June..
June 2006, walaupun June baru je mencecah 7 June, tapi dalam mase 7 hari bulan June ni, banyak bende yang menyentuh jiwa dan raga..
1st June..
Baru masuk bulan kan, dah start panik sebab lagi 28 hari lagi my due date but at the same time sangat gembira sebab dah nak dekat cuti panjang. Tapi malam 1 june tu mira demam, demam panas + selsema tapi mira tak makan ubat sebab takut boleh effect baby. Lagipun boleh tahan lagi sebab esok nak jumpe doktor.
2nd June
EY bagi cuti untuk semua staff. Yeay!! bukan senang nak dapat cuti mase orang lain tak cuti. Banyak bende dah siap plan dari pukul 10 pagi sampai lah ke petang. Jumpe doktor, yerp tunggu macam biase, tak de laa ramai tapi bile sorang masuk, ade laa jugak dalam 15-20 minit. Kire nak tunggu masuk tu, kire lame jugak laa tunggu.
Masuk jumpe doktor, first thing the doctor asked "How r u amira? sihat?" and for the first time in 8 months, i answered - "tak". Doktor pegang tangan mira sebab nak check blood pressure, bile doktor pegang je, memang tangan mira panas!! Bagi tau doktor kate mira dah 2 - 3 hari demam and mira tak amik any medicine. Ye laa kite ni bukan doktor, tak berani nak amik sesuke hati. Doktor kate, kalau demam ke tak sihat ke lagi kene cepat amik ubat sebab takut infection kat baby. Mase tu rase cool lagi sebab mira pun tak de laa demam teruk sangat cume lemah-lemah je.
Bile time nak scan, mase ni laa mira start panik. Elok je baring, doktor check mira punye kaki and die kate kaki mira bengkak, mira just angguk sebab mira tak rase pun sakit bengkak. Yang mira rase mira makin gemuk. Bayangkanlah sekarang ni cincin kawin mira dah tak boleh pakai!!
Lepas tu, seperti biase, procedure die - tengok baby dalam perut. Doktor sempat komen kate mira boleh lagi pakai baju kurung walaupun dah 8 bulan mengandung. Hmm. Doktor check macam biase, doktor kate air tak cukup. Mira pun dah pening dah, to be honest, mira tak tau dah berape banyak lagi nak minum, sebab hari tu sebelum pergi hospital, mira dah minum 8 glasses of water - tu pun tak cukup lagi. SAtu hari, mira memang akan minum 4.5 litres tak pun hampir-hampir laa. Serious, memang tak larat nak minum banyak-banyak sebab bile minum asyik nak ke toilet je. So bile doktor cakap tak cukup air, frust jugak sebenarnyer, sebab bukannyer mira tak usaha minum air untuk baby.
Then doktor tunjuk kat hubby kate placenta mira still takuk tu jugak, tak naik. Hmm kali ni datang jumpe doktor asyik bende yang tak best je. The best part, muke baby makin lame makin clear, nampak pipi tembam n square face. DOktor pun cakap baby in position n sihat. Dengar sihat je dah kire the best news untuk mak ayah die dengar.
Lepas tu doktor kate, baby baru 2.28kg patutnyer baby mase ni at least dah 2.6kg and she continued "I doubt for ur baby weight". Mase tu, mira memang dah tak sedap hati. Terus senyap, dari banyak tanyer, sampai tak tanyer ape-ape lagi bile doktor kate mira kene buat CTG untuk check heartbeat baby. Die kate proses tu dalam 30-45 minutes. Mase tu mira jadi kayu terus. Senyap je. Doktor pulak cakap, ade possibility jugak mira kene operate.
Ni mase buat CTG, mira yang ambil, sebab mira yang amik so kelam kabut la rupe. Boleh dengar ke baby punyer heartbeat?
Ade nurse ni bawak mira pergi tempat CTG tu, mase nurse tu pasangkan machine tu dekat badan mira, mira dah start nangis. Takut. Takut tengok result. Nurse tu tanye, kenape kene buat CTG, baby tak moving ke? I said no. baby mira ni active. Once machine tu start, dengar bunyi dup dup dup, then nurse tu kate, ok je baby punyer jantung. Dalam hati alhmadulillah, tapi i kept asking myself "What's next".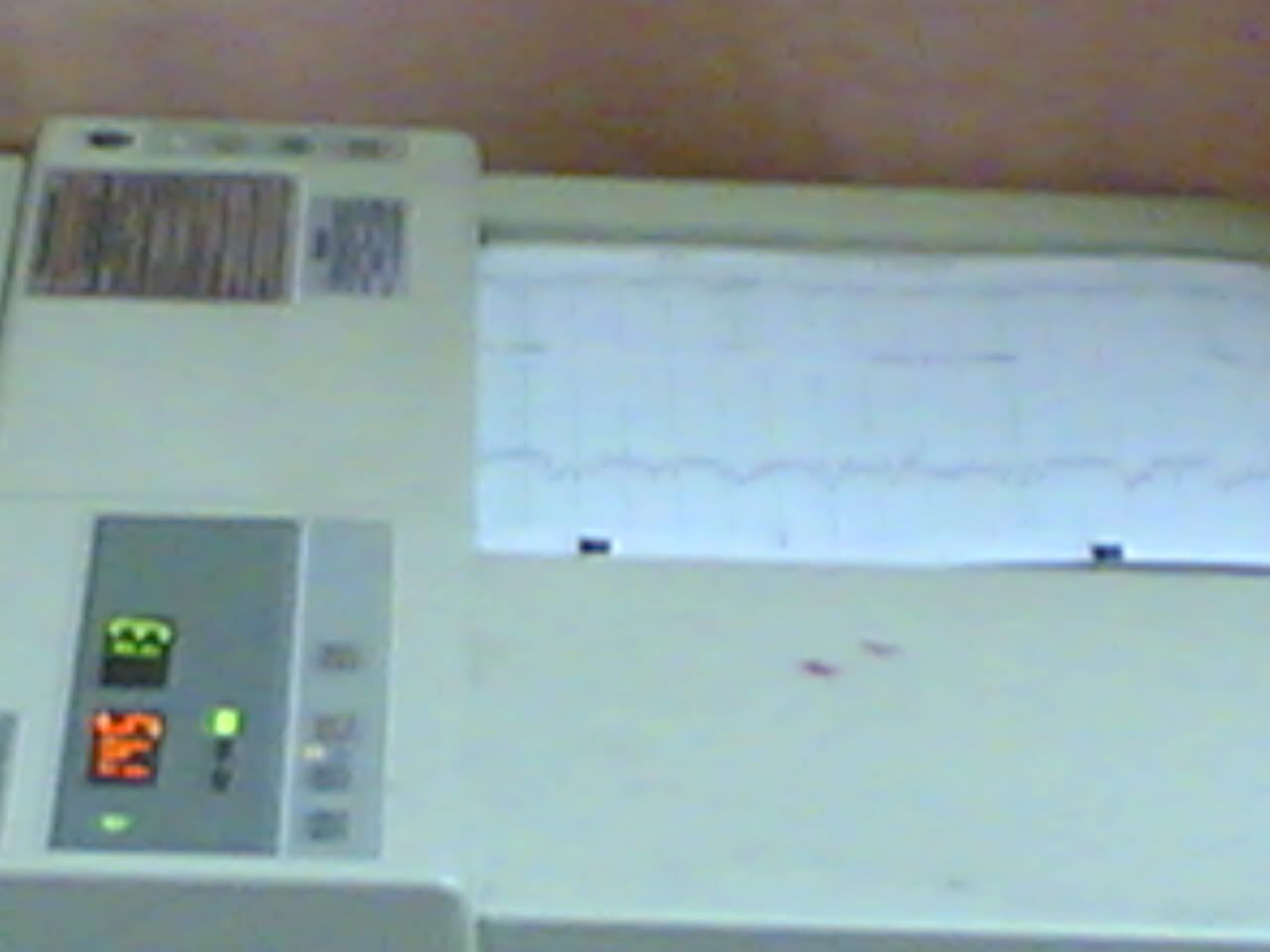 Ni laa diagram die, atas tu heartbeat diagram, bawah tu nak check contraction. So sekarang ni mira tak rase sangat contraction lagi..
Yerp, mira asyik nangis je, hubby tried to stop me from crying. Hubby kate everytime i cried, heartbeat baby naik mendadak (ikut diagram).. So, mira pun berhenti la jugak akhirnye, sampai laa tetidur like a baby. Hubby kate mase mira tidur, diagram lawa je - baby sangat-sangat laa tenang...
Doktor bagi mira ubat, and mira kaw-kaw punyer ubat tu - mengantuk semacam, bile telan je, terus boleh lari ke pluto..
Lepas habis, doktor kate baby ok.. So mase tu dah boleh senyum sikit and doktor suruh mira jumpe die esok - 8 june 2006. Tapi lepas balik dari jumpe doktor pun, mira tak banyak cakap. Kesian kat baby, fikir jugak ape laa yang ibu die buat sebab baby ni macam-macam laa jadik dekat die.
Sampai kan hari tu dah tak de mood nak sign S&P, loan, n sewaktu dengannyer. Kirenyer hari tu turunkan signature tanpe banyak soal...
Hai panjang dah...
4 June 2006..
Terima berita dari rumah Kemensah - moyang mira menghembukan nafas terakhir pada jam 1.30 petang. Patut laa hari tu mira cepat je packing barang (sebab the next day hubby kene outstation), kemas rumah. Selalunyer mira akan buat petang sikit. Sedih. Arwah umur 95 tahun kalau ikut IC die, tapi rasenyer umur die mesti more than that. Lagi sebulan je arwah dapat tengok piot die macam mane rupe.. Arwah selamat dikebumi hari yang same lepas solat asar. Semoga Allah mencucuri roh ke atas nya dan ditempatkan di kalangan orang yang solehah. Alfatihah untuk arwah Khadijah Bt Arshad
Ok lah panjang sangat post kali ni.. Cukup la yer..