Finally
I thought the sale is over but its not. I was on my MC today, asked hubby to drop me at Mid Valley after the appointment with the gynea. But it ended up, I waited for hubby to shop with me as he will do all the payment. Haha.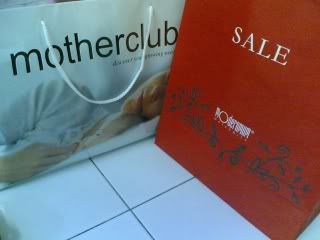 Ini untuk ibu..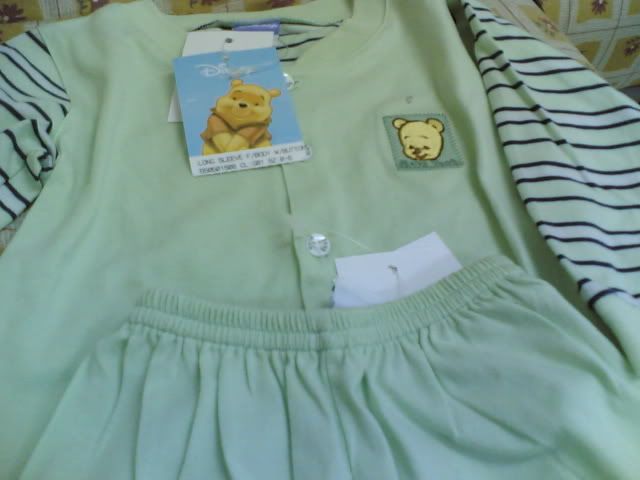 Sorry yek sayang, satu je untuk sayang kali ni, sebab terlebih budget dekat ibu.. :)
Appointment with gynea.
Quite disappointed today because the printer was not working!! My baby will miss his picture on 26th weeks. Anyway, surprisingly and alhamdullilah cos my blood pressure is OK even though with all the hardwork that i have pushed myself into. But still not a good news for my placenta, masih lagi dekat bawah. Bile laa baby ku ini nak bagi die naik but alhamdullilah again, my baby is in position.
Hubby said, this time around our baby is not in the mood to give his best pose, I guess he already know the printer was not working. Takde aksi2 yang menarik, duduk diam je. My gynea advise me to drink a lot of water since the fluids for my baby tak cukup. At least 4.5 litres per day. Gosh!! Usually, I always disciplined myself to drink 3 litres a day itupun dah penat sebab I frequently go to the toilet. Ni 4.5 litres!!
But but but, dengarlaa semua orang, I can see my baby face quite clearly. Dapat tengok pipi tembam die. He has a square face!! Thanks for the technology.
Again, our gynea confirmed it is still a boy. :D
Sadly, my gynea said I nearly overweight. She asked me to control my diet as it will effect the delivery process. Oh ya, baby sekarang ni berat die dah 910gm. Last month 480g. Doktor kate sayang tak cukup berat, tapi Ibu bace buku, berat baby at this stage is normal. :)
A visit to that FURNITURE SHOP
I told u rite, our dining table tak dapat-dapat lagi. So for the first time ever in my life, mira mengamuk kat kedai. Haha. Bengang gile!! Entah le.. My advice: Dont ever visit that furniture shop in Jalan Balakong. Tapi at least lege jugak bile dah bebel-bebel kat derang. Hubby cool je. Control :p