HAPPY BIRTHDAY ABANG!!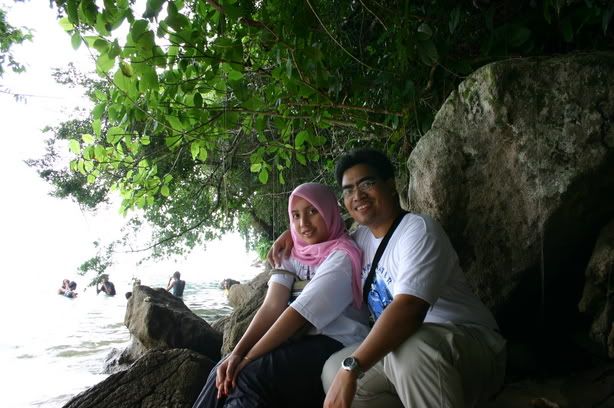 This picture was taken during our honeymoon trip in Tioman Island.
It has been a few hours since I last saw you and I missed you already. This is the first time you are away from me after our ijab and Kabul. Remember the first year during our courtship? We only had our date once a month or once in two months and nothing seems affected my daily routine life. But for only a few hours, I started to miss you desperately.
At first I thought you have given me some "space" to clean up your mess, washing your clothes, using the Internet without your annoying disturbance and conquering the Astro channel. But at last I admit, I hated the fact that no one will feed me the medicine, ensuring me to drink two glasses of milk per day, switch off the light, doing the stupid jokes and keep me company wherever I need you.
Abang, when you passed the car key to me at EY, kiteee gile-gile nak ikut. It even worst when you hugged and kissed me on my forehead and cheek. Plus, thinking that I cannot celebrate your 26th birthday at 12 sharp, lagi frust. But, I know you are doing something for our brighter future and fulfilling part of my dream.
What ever it is, we both miss you so much..
That was written yesterday when I was staying alone in the house thinking about my hubby. Err, missing him actually. Yerp, for the first time after I am officially being his wife, my mobile phone is glued in my hand. And after a few conversation, I was jokingly forcing him to return back to KL today (Joking + memang nak pun) and surprisingly, at around 6pm, Dearie is back!! and he is patiently waiting for me down the road from my office. Yeye.. :D
Abang, now it is only a few minutes before you reach 26. Definitely, I will force you to wake up!! Hehe. Abang, there is no special gift that i have planned for, but the only thing that I could give is my love for you, now and forever. Muah!!! I will try to accomplish your wish :p. Oh, I asked him what he wants for his birthday and he just said "Berhenti garu-garu sane sini, sebulan pun jadi". Hmm, a simple wish but it is hard for me to do. FYI, it is only happened during my pregnancy.