An Arabian Guy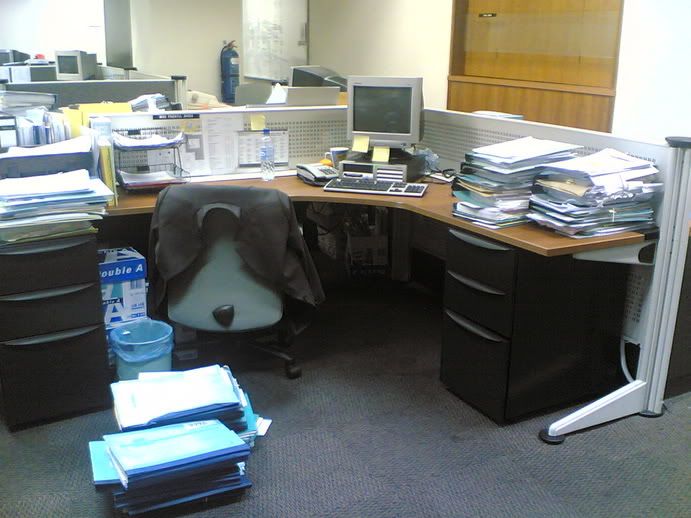 My workstation, semak kan.. and actually there are more files around me.. More files=More Work
I had been asked by my boss to meet an IRB (Inland Revenue) officer in Kg. Attap today. I reached there around 4+, so it is not worth for me to go back to the office even though the workload is piling up. Well, for me, I dont mind to stay back late in the office but once I step out from the office, seriously there is no turning back.
Usually dearie will be my "so call driver" but today he had a meeting so I took a taxi to Kg. Attap. Called
Hana
, on my way to Kg. Attap who I believe is still in her goooooooddd moood after having, I would say pre honeymoon trip to Japan.. chewahh. But, pity her, I spoilt her mood with my story. Honestly, hubby is the best person to listen to my daily routine, but today I couldnt help myself to keep the story.. and since hubby was having a meeting, so Hana laa orang yang dituju-tuju. Luckily today she is on leave.
Thereafter, I went to Mid Valley to wait for my hubby. Reason - I lost my housekey, so balik pun tak gune. To tell you the truth, I treated myself nicely this week. Almost everyday, we went to the shopping complex and I wont let myselg going home with empty hand. I just buy watever i feel i like it. Now, im eyeing for one dress at Mother's Club but unfortunately, my saving shows that I need to postpone.
Theres something interesting story happened today when I was in woman department at Jusco. An Arabian guy approached me and our conversation lebih kurang macam ni laa
Arabian Guy: "Err, do you speak English?"
Me : "Yes"
AG : "Why are you wearing this" and his fingers pointed to my Baju Kurung
Me : "Wat?" I was puzzled
AG : "Yeah, why are you wearing this"
Me : "Oh, because today is Friday, and I just came back from work"
AG : "Why everyone is not wearing this"
Me : "Maybe, they are coming from home, plus this is shopping complex, usually we wants to look more casual"
AG : "Where did you work"
Me : "Somewhere nearby"
AG : "You know, I tried to find everywhere like you, wearing scarf and this"
He keeps pointing baju kurung as THIS. He continued..
"I went to KLCC, Mid Valley, but no one wearing this, I wonder why"
Me : "Sir, do you need any help?"
AG : "Nope, I just curious, thank you. Assalammualaikum"
And our conversation ended there. Hmm.. Fikir-fikirlah..