UTP ku sayang - Masjid terapung UTP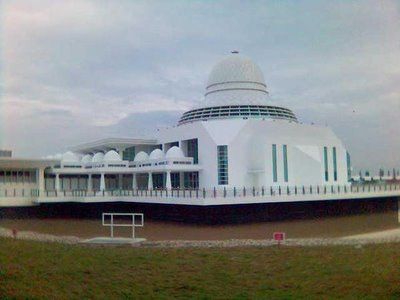 Even though UTP is located in the isolate area, honestly I am proud to become one of the Utpian. Being rewarded as a Petronas scholar, it is the best gift to compensate the fact that i dint get the opportunity to study abroad. Well, Petronas as a multinational company with business interests around the world, is not only concern on making money, but their responsibility as the corporate citizen has created a smile to other people.
And i get those smiles. I am proud to witness the development of the most beuatiful university in Malaysia - I guess - Seriously, the design is awesome, ask anyone whom has visited the new UTP campus, I bet they are surprised to see that Tronoh is the host of this beuatiful architecture. The Chancellor building, schools, hostels, etc.. Opss, not to forget - the hottest place in Malaysia. I tell u, pokok tak hidup :D.
And Masjid Terapung is the latest building which is now the talk of the town. Yeah - floating mosque hmm.. Last time, I was only able to see the structure and now, this mosque is ready to be used by everyone. Nothing I can comment since Ive never been entering the mosque yet.
And BRAVO to Petronas..