Jalan-jalan KL TOWER
Last week, makcik (maid) balik Indonesia for good. Makcik ni die dah keje dengan kiterang (correction:with my mum) for almost 4 years. She has helped us alot especially in taking of my great grandma and my late grandma. And not to forget, my siblings including ME!! :D One good thing i learn from my mum is being good to everyone regardless of their race, standard of living and etc because in return they will appreciate us.
I have seen a few people who really shows their "taiko" to their maid as if they conquered the world. Yelling, shouting and torturing them in front of my eyes!!; or to be exact in front of the guests. So, i wonder what happen to their maid behind the scene? But somehow, kene jugak tunjuk kite ni boss, kalau tak, derang pulak naik lemak. Talking about maid, i have a lot of stories to be shared. Yeah, i have been staying with maid since i was born!! Those who came from Indonesia (a few), my gosh, im telling you, we even have to teach them how to brush their teeth!! seriously!! But alhamdullilah, neither of them had being rude to my mum and us, even though i understand that they have a lot of house work!
But, we experienced one of them (a local) who ran away with my mum's and my late grandma's money, silks, and my mum's jewelleries. The first time she came to our house, she was so humble and soft spoken. Die lari lepas 3 hari duduk rumah tu. That time I was 14, and my youngest sister was a few months old. Alhamdulillah, die tak ambik Ika!! I remembered the first question Baba asked "Baby ade tak?" Maid maid..
Ok, back to the story, Em & me bawak makcik jalan-jalan pi KL tower and we went there by PUTRA and monorail. She was so excited because that was the first time, naik ketapi.. Heres the pic!!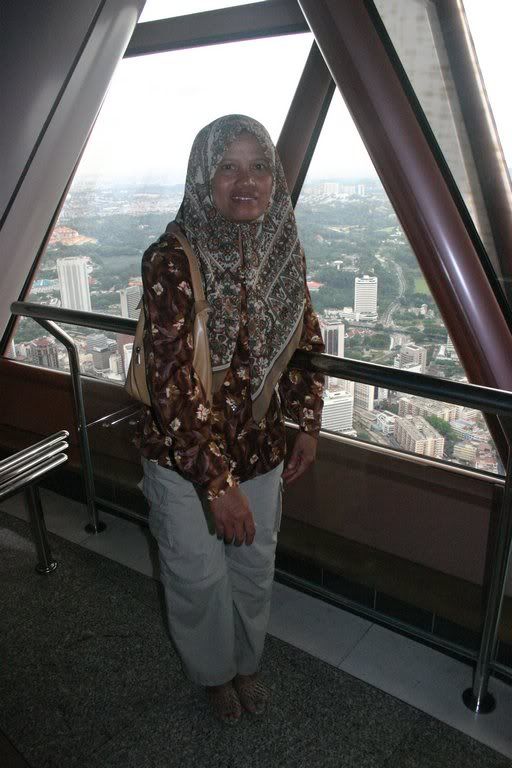 Ni laa gambar makcik tu mase dekat atas KL Tower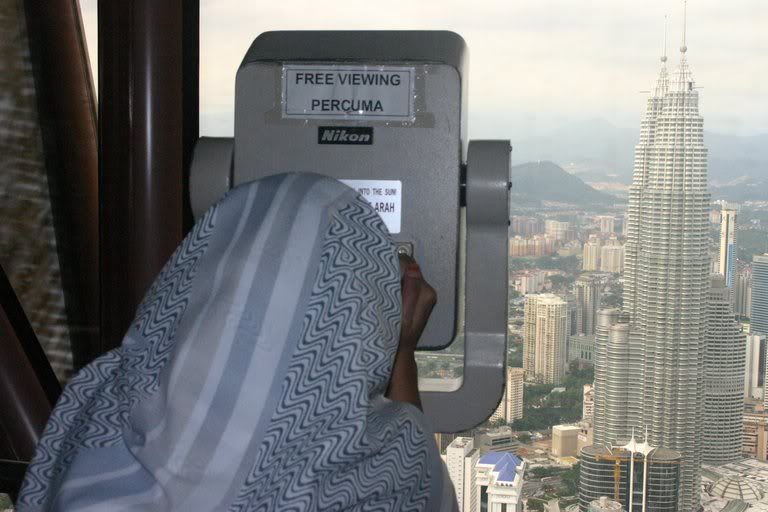 Em kate gambar ni susah nak ambik, sebab gambar ni die nak amik KLCC n me. Susah sebab reflection and flash tak sesuaiii.. Tapi at last it becomes my fav pic!! Anyway, mira cari Melawati area and Taman Desa tak jumpe, hampeh betul.. paling tinggi nampak Jusco W Maju ngan Highland Towers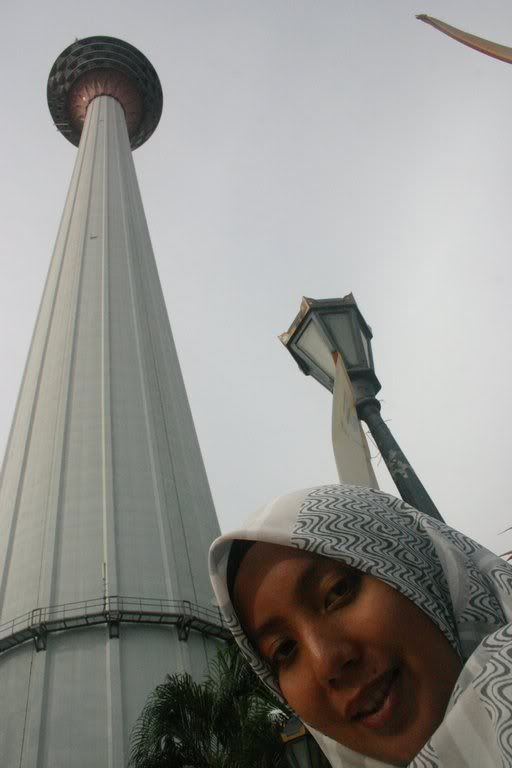 Ni pun mira suke jugak gambak ni.. i like the scene but not ME!!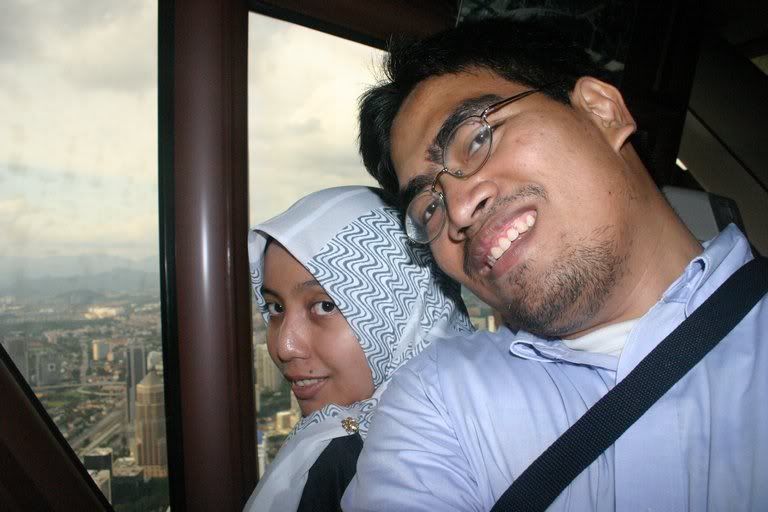 With the best photographer in my life and part of Wan Faziatul Amira.. heheh