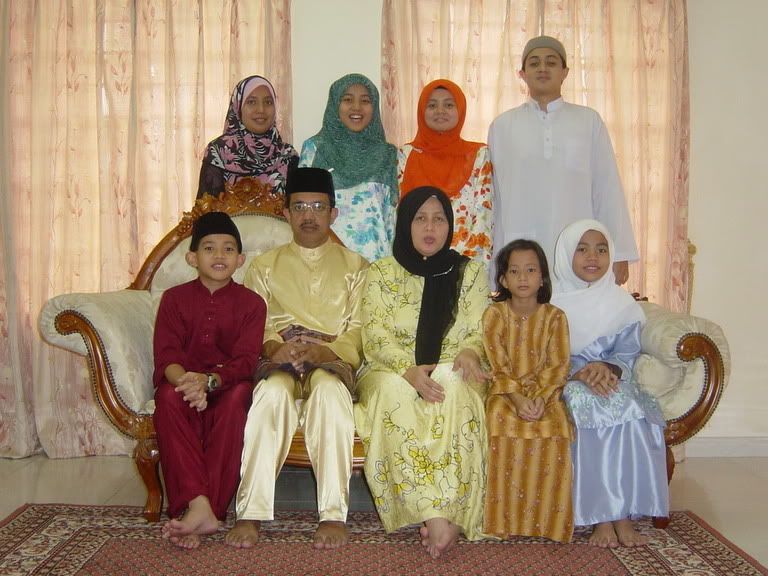 Tak tau kenape tetibe rase nak letak gambar raye ni.. Ni gambar raye yang baru. Hehe, sape paling tembam dalam gambar ni?? MIM YA RO ALIP. Mira.. hehe. Dalam banyak2 gambar yang kiterang ambil tak de satu pun yang perfect. Hehe, tengok la gambar ni, actually semua yang berdiri kat belakang tu, jengket2 sebab nak same tinggi dengan saffuan. hehe, last2 memang terbukti laa mira paling pendek. *sigh*. Ika pulak tak gelak sebab tak nak tunjuk gigi die. And paling best gambar ni, Ainun, yang sebelah ika tu, die bukan senang nak senyum. So kire gambar ni mahal untuk family kiterang.
Just read
Teh's
blog. She is in dilemma because her housemate wedding falls the same date with mine. Dear dear, teh, i dont mind if you wanna to follow ur mates to kerteh. :), Its only once a year or maybe this will be the last reunion for all of you.
Yesterday, im having a tough time to switch on the PC. Really stressing me up because i need to submit my resume and four cover letters by today. And finally, that stupid computer wins! Tak pasal2 kene reformat balik, and seperti biase, tak de mase la mira nak format balik, baik delayed sampai ke hari ni. Ni pun baru je siapkan cover letter. Selalu macam tu, bile time mira ade bende penting nak kene online, komputer buat hal.
Guess what, this coming saturday, F1's club will be reunite. Tak semua, cukup untuk sape2 kat KL. Kengkawanku, i know u guys r reading this, prepare yourself to have lots of money, hehe!! Eh ujie, dah beli Cleo bulan ni?? Hot gossips!! F1 tu kiterang punye nombor rumah mase dekat Utp tapi lepas balik training, kene pindah S1. So name jadi tak sedap.
O ya, semalam mira dengan
nolee
pergi ziarah anak Lin dekat HKL. Anak Lin baru 2 bulan satu hari, his name is Shakir and he has been diagnosed liver failure for the past six days. Lin kate tak de hempedu, and ade possibility kene buat liver transplan. Sedih tengok Shakir yang comel tu sakit. Kite doakanlah baby Shakir sihat balik yer. Kalau budak2 UTP yang ade time tu, boleh lah ziarah Lin dekat HKL, wad pediatrik.
Ok, malam ni ade monthly ceramah by Ustaz Khazim. Ok, nak siap-siap. Daaaaa