Happy Birthday Iryani Bt Lob
Bukan senang nak jeleskan orang Selangor ni, sekali setahun je orang yang keje KL dapat cuti lebih sehari dari orang Selangor. So hari ni 1st Feb 2005 mira dapat cuti sehari, ok la tu. Semalam pulun jugak siapkan homework, tu pun ade lagi tak siap. Kali ni kene series sikit, tak leh macam mase kat U dulu, risau gak bile Ani cakap exam susah. Die pesan suruh study awal..
Speaking about Ani, my fave cousin, hmm lupe lak nak buat special post untuk die punyer birthday, hari tu elok je lepas habis online, baru teringat pasal die. Sorry girl, bukan tak sengaja. Tak sempat kat blog je :p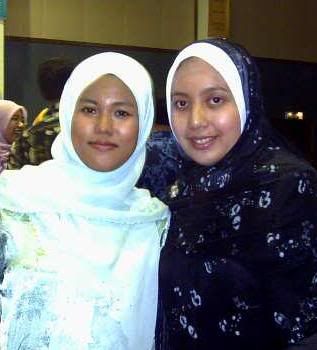 Happy Birthday Ani yang ke 23. 26 January 2005. Tembam kan Mira heheh..
Iryani bt Lob, cousin yang paling rapat sekali ngan Mira, maklum la Mira tak ramai cousin yang sebaya, kalau ade pun sedara jauh-jauh bukan sedara yang dekat. Dari kecik lagi kiterang memang suke buat bende same-same, sampaikan nak mandi pun same-same. hehe tapi bile dah besar sikit, tak de dah la mandi sesame :p.
Ingat lagi, mase tu dekat Kuala Kangsar, mira n family mase tu nak teruskan perjalanan balik ke taiping, ani n arwah pah gerik tidur dekat kuala kangsar. boleh la pulak kiterang menangis, kononnye sedih sebab terpisah. hehe tapi dalam mase tak leh berenggang tu, biase lah budak kecik bergaduh pun ade. Ani ingat tak mase mira berebut baju yang Elang beli kat London, kite due nak sangat baju yang same, last-last kesian Ani yang kene beralah. So baju tu dapat la kat Mira, tapi yang kelakar nya, kene pulangkan balik baju tu sebab Mira tak muat. Ok ok its proved mira ni memang dah tembam sejak kecik lagik.
Tapi bile dah besar, lain pulak cite die, masing-masing dengan dunia pendidikan masing-masing, tak sangka pulak akhirnya kiterang dapat tempat yang same. UTP. dah la U same, cos pun same jugak. So lagi senang la kiterang nak cerite, lagi senang la kiterang nak bergosip, n lagi senang la nak buat study group. Tapi mase kat UTP ni best sikit. Kalau orang tu panggil Ani as Ani, maknenye orang tu kenal Mira dulu, and Mira la yang perkenal kan Ani kat derang. Tapi kalau sesape straight kenal Ani derang panggil Yani tak panggil Ani.. Glamer sikit kan.. :) Sekarang ni pulak amik cos yang same kat PAAC, tapi bezenyer ani jadik senior mira kat PAAC. nak habis dah pun die
Ani, how to describe her. She is very particular and very committed in what shes working on. Mase buat projek Virtual Reality, sungguh-sungguh die nak bagi sinki die tu real. Note: is not easy to design a real sink. We have to consider about the shapes and curve. Lepas tu pulak die kene buat anak patung. woo, tapi akhirnya, wahlaa..
Ok ani, good luck for your exam, lepas ni dah jadik warga KPMG jangan harap la dapat relax2 selalu. So lepas habis exam ni, make sure u enjoy habis habis dulu. Hehe, and sekali lagi, I want u to be beside me mase atas pelamin nanti :p hehe.. Muah.. cayang die.. Selamat hari lahir, semoga panjang umur dan murah rezeki dan sentiasa berada dalam perlindunganNya..