Hari Raya and Happy Birthday Norainnie Muzlan
Selamat Hari Raya Aidilfitri Maaf Zahir Batin kepada seluruh ahli keluarga, sahabat handai dan semua pembaca www.emmira.blogspot.com Semoga Aidilfirtri ini dapat lah kita sama-sama mengeratkan silaturrahim
Ikhlas Dari,
Emran & Wan Faziatul Amira
2004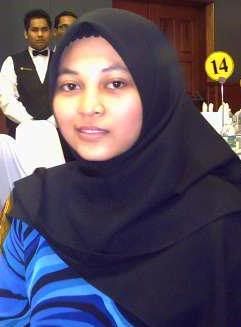 Happy Birthday Ain. si ain ni tadi mira bagi la die sms Selamat Hari Raya, lepas tu die reply, "Selamat Hari Raya, ingat tak hari ni hari ape!!!" and i know it.. Mira terlupe.. So kepada semua housemate-housemate ku yang terlupe hari ni Birthday Ain, baik cepat, nanti minah ni merajuk lak.
Ok, Ain ni mira punye roomate mase mule-mule masuk utp dulu. dulu kiterang satu bilik ade empat orang, mira, ifa, najah and ain. Kalau compare dengan kiterang bertige, ain ni la yang paling senyap sekali. Dulu,kalau nak tau, cakap pun slow habis, pulak tu pemalu die, mak aii.. sampai kan kalau pi kopetro tu, nak tanye barang pun mintak tolong kiterang tanyakan. tulah nak tunjuk betape pemalu nyer makcik ni.
Tapi lame kelamaan, dah hilang dah die nyer pemalu. first time bile kiterang semua dengar die cakap "aku sepak kang" semua orang macam tak percaye, betul ke dari mulut makcik ni.. sikit demi sikit, baru laa die dah tak macam ain kiterang kenal mase januari 2000 tu dah, dah makin advance minah ni.
Anyway, im glad to have u as my friend. Still remember mase mira sakit kaki yang teruk tu, ain la tolong teman kan pi hospital ipoh. Tapi sakit2 mira tu, ingat tak kite due sempat lagi pi tengok wayang dulu sebelum balik utp. hehe.
Actually, kalau nak tau, ain ni adik angkat em, die jadik adik angkat dulu, before mira jumpe em :).. oklaa ain, all the best, any update about u and Cicak or ape2 :D jangan lupe habaq mai noo..
Ni je hadiah leh kasik :p
SELAMAT HARI RAYA AIDILFITRI MAAF ZAHIR BATIN.. Esok raye first sure banyak lagi update :D